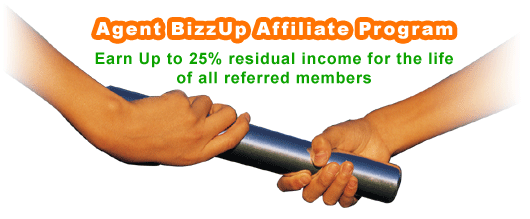 Program Overview

Becoming a Agent BizzUp Affiliate means you will be offering real estate web sites, tools and technology to agents and brokers. You will earn commissions from all set-up and monthly charges from your referred clients.
Who Should Join?

Anyone who do business with agents will want to become a Agent BizzUp Affiliate.
Agent Service Providers
Real Estate and Mortgage Brokers
Real Estate Educators
MLS Boards and Associations
Web Designers and Computer Consultants
Program Detail

As a Agent BizzUp Affiliate you will have your own Affiliate Control Panel. Within the control panel you will be able to see how many of your leads are converting and up-to-date reports on earnings, referrals, and other valuable information to help you succeed with your affiliate account. You will receive affiliate links and banners to place on your web site and other marketing tools to promote your affiliate program. You will earn a minimum of $20 on all referred clients account setup. You will also earn up to 25% residual income (including income from most add-on services) for the life of each referred client as long as client owns a web site through Agent BizzUp.
Agent BizzUp Solutions offers 2 types of Affiliate Programs:
Resellers
The reseller program is for anyone who would like to get an affiliate account up and going with very little effort. Click here to apply for a reseller affiliate account.
Partners
The partner program is for high-volume referral affiliates. The partner program requires an administration setup fee. As a partner you gain more control over your affiliate account. Including private labeling Agent BizzUp services, setup your own custom plans and prices, add custom value added services, and using your own payment processing directly into your merchant bank account. If you believe you will be referring 50 or more clients per month, please contact us about becoming a partner.