Now only $24.95/month and NO SETUP FEE
(some MLS may require a setup fee and/or monthly Passthrough Fee)
Start capturing more leads today by offering your visitors the tools they need to effectively search for properties directly on your website. Adding MLS listings to your website is quick and easy with our Advanced IDX solution. Your website will automatically be updated on a daily basis with the most recent MLS data and photos, which means you can concentrate on making sales and let your website be a personal assistant for potential clients to narrow down their property searches. Our Advanced IDX solution supports raw data FTP and RETS.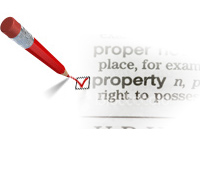 Predefined Listings Groups new!
| | |
| --- | --- |
| | Create search engine friendly listing group pages with your custom predefined criteria. Possible usage for this feature would be to showcase listings by neighborhood, subdivision, county, city, etc. Basically any field that can be searched you can add to the criteria for the predefined page. |
| | Create Foreclosure, REO, Bank Owned, Short Sale, and other custom listing group pages based on any keywords that you want. |
| | Direct link IDX listing page which is accessible by search engines and display only properties that meet your predefined criteria. You can also add formatted text, images, and/or html content to these listing groups using our Page Editor. This feature is great for marketing campaign landing pages. |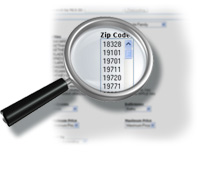 Customizable MLS Search Page
| | |
| --- | --- |
| | Display all or some of the listing types provided by your MLS which may include Single Families, Condos, Lots and Land, Mobile Homes, Multi-units, Commercial Properties, Apartments etc. |
| | Data and Photos updated daily so that your clients will have access to the latest data. |
| | Includes an easy to use, one page search interface which has options that you control. Visitors can do a basic search, advanced search, or search by MLS id. |
| | All property detail pages prominently displays your contact information and includes a Request Showing link which is sent directly to you. No other agent's contact information will be displayed on your pages. |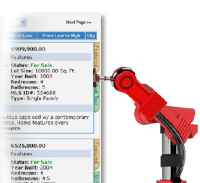 Automated Featured Listings
| | |
| --- | --- |
| | Your listings are automatically pulled out of the MLS database and inserted into your Featured Listings group/page. And when your listings are sold they are automatically moved to the Recently Sold group/page. |
| | Access your own listings in the My Listings manager to add virtual tours, additional photos, custom description, and more. |
| | Attach featured listings automatically to your email marketing campaigns. |
| | Featured listings can be displayed on any page using the Featured Listing module. |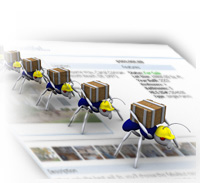 Seamless Integration
| | |
| --- | --- |
| | With the IDX built directly into your website all MLS listings will flow into your page layout seamlessly while maintaining the same look and feel for your personal listings and for MLS listings. The design is control by your template style and not by some generic MLS layout. |
| | Includes all other listing tools like mortgage calculators, schedule a showing, virtual tours, image tours, and more. |
| | Make it real simple for potential home buyers by adding a customizable search listings module to your home page or any other page on your website. |
| | No frames, popups or separate admin to access the IDX configuration options. |
| | You can even require your visitors to register before gaining access to listings. All leads go directly to you by email and is saved in your contact database. |


Frequently Asked Questions
Q: Why would I use Agent BizzUp's Advanced IDX if my MLS provides me an IDX framing link and I can add it to my website for free?
A: Agent BizzUp's Advanced IDX is a more advanced IDX solution which is built directly into your website and includes your own branding. Our Advanced IDX offers more control and works seamlessly with your Agent BizzUp website. No frames are used with this service which means all MLS listings have a clear to understand search engine friendly URL.
Q: What if I am a member of more than 1 MLS?
A: If you use more than 1 MLS you can add an Advanced IDX for each MLS. This will require an additional fee for each MLS. When using multiple MLS with the Advanced IDX only 1 MLS search page is required since all MLS will be integrated seamlessly.
Q: why do I need to sign a contract with my MLS provider?
A: All MLS requires that you enter into an agreement before access to display MLS data on your website is permitted.
Q: How long does it take to add the Advanced IDX into my website?
A: From the time we receive the approval and access information from your MLS it takes about 2-3 business days to build the Advanced IDX into your website. If your MLS is not currently in our MLS Coverage list we will require an additional 2-3 weeks.

You must have an account to request this service.
Currently our Advanced IDX Solution is only available to members who have a website hosted with us.




MLS Coverage
The MLS's below have already been built into our system.


If your MLS is not on this list, send us a request to have it added in about 2-3 weeks.